Ben Lines has worked in the hospitality industry for over 10 years and has worked in a variety of different kitchens.
Ben has worked in 1 Michelin star, 2 Michelin star and 3 Michelin star kitchens. Having learned his craft from some of the worlds best kitchens. Including The Fat Duck, Ametsa, Maaemo and The Snapery Bakery.
Ben then went on to become Head Chef at The Conduit in Mayfair, London. The Conduit was a private members club that focused on social issues and collaboration. Here Ben was able to further increase his experience and offer delicious food.
Ben is owner and head baker at Gwyn's Bakery.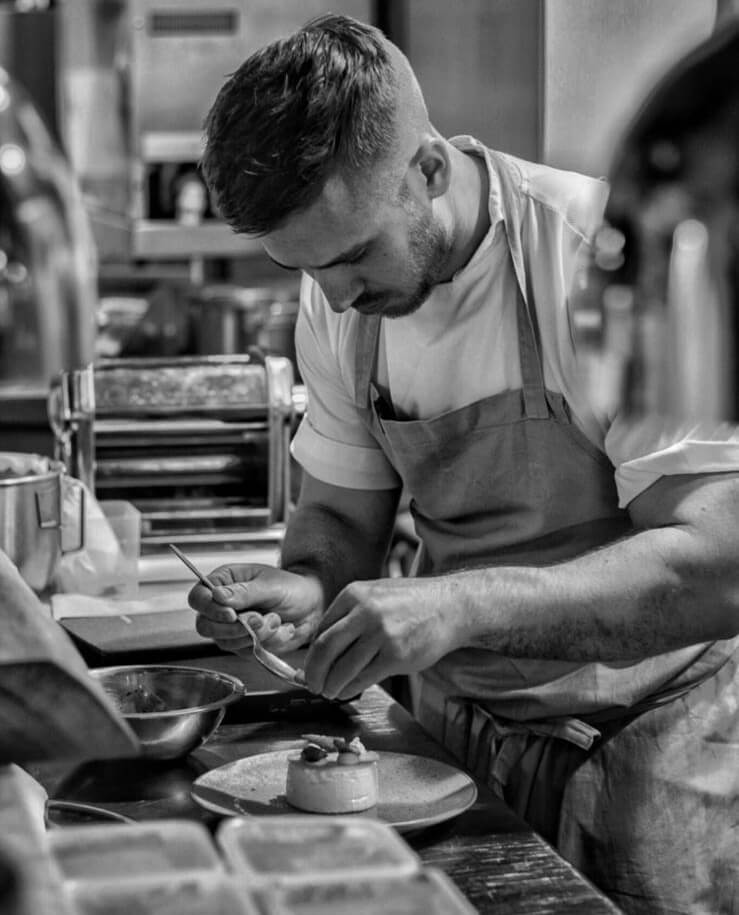 Gwyn's Bakery strives to offer baked goods of the highest quality. Focusing on using British ingredients where possible, the bakery uses 100% British grown wheat for its bread.
From the mixing to the baking, all of the baked goods are made from scratch on site, everyday with love, passion and care in a clean environment.
The bread and pastries get baked early in the morning, with the baker often starting at 1am, to provide for our wonderful customers with the freshest product possible.
The bakery also offers delicious coffee sourced from Horsham Coffee Roasters, tea from Rare Tea Co and hot chocolate using Pump Street Chocolate.
At the bakery we aim to reduce food waste as much as we can, often donating our excess stock to local food banks and charities.
We use fruit trimmings to make delicious glazes for our pastries, use bread for breadcrumbs which feature in our sausage rolls and candy any leftover citrus peel to be used in hot cross buns or mince pies throughout the year.
We aim to offer the best experience to our customers possible and are always happy to hear feedback so we can better ourselves.